Recipients
Daniel Beban (2019)
The Lilburn Research Fellowship for 2019 was awarded to Daniel Beban.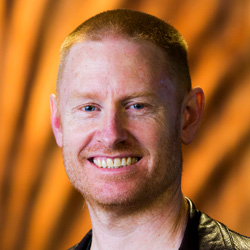 Daniel Beban took up the Fellowship in 2019 to further a study of the Braille Collective musicians in Wellington. The Collective made up groups such as the Six Volts and Primitive Art Group in the mid-1980s.
Mr Beban studied ethnomusicology and composition at Victoria University of Wellington, with improvised and experimental music being the focus of much of his subsequent research, writing and radio broadcasting work.
Mr Beban says that he feels honoured to be awarded the 2019 Lilburn Research Fellowship. "This is a fantastic opportunity to produce a book about the Braille Collective and New Zealand improvised music from the late '70s onwards. It's an important story in the history of New Zealand music, and as most of the musicians involved in this community have operated outside of institutions, it is a piece of history that has been largely overlooked. It is a great privilege that I am able to devote a substantial period of time to helping tell their story," he says.
The Braille Collective embraced a self-publishing and DIY approach, releasing music on their own record label and creating much of their own promotional artwork. Its members have gone on to contribute significantly to New Zealand's wider music scene and internationally.
The Alexander Turnbull Library's Music Curator, Dr Michael Brown, says that the Lilburn Research Fellowship was established as a biennial award in 2012 to encourage scholarly research about New Zealand music. "This is the only fellowship available in New Zealand that specifically supports New Zealand music research, and it means that Daniel will receive a $70,000 grant, an office at the National Library and access to our collections. It's one of the most significant fellowships awarded by the National Library of New Zealand Te Puna Mātauranga o Aotearoa (NLNZ)," he says.
"One of the exciting aspects of Daniel's research is that he will be delving deeply into the fantastic collections of the Archive of New Zealand Music", Dr Brown says. "These include numerous live recordings of Braille Collective groups, and related material in the collections of composers Jonathan Besser and the late Jack Body." It is especially pleasing to be able to announce the recipient during May, New Zealand Music Month, Dr Brown says. "The Alexander Turnbull Library's world-class collections help preserve New Zealand's significant original music heritage, such as magnetic tapes and other original recordings, musical scores, photographs, and posters. The legacy of the Library's generous donors is underlined by research such as Daniel's."
Photo credit: Mark Beatty, National Library of New Zealand
Aleisha Ward (2017)
The Lilburn Research Fellowship for 2017 was awarded to Dr Aleisha Ward.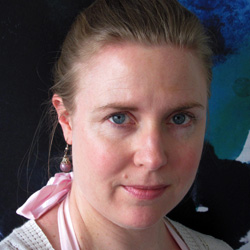 Aleisha Ward used the fellowship to research the musical and cultural history of New Zealand's jazz age (1917-1929) in a project called The Jazz Age in New Zealand.
"I feel incredibly honoured to be selected as the 2017 Lilburn Research Fellow. This makes it possible for me to expand to a national scale the research I am doing. I am delighted to have this opportunity to explore and share with others the vibrant and exciting jazz, dance, music and entertainment scene of 1920s New Zealand, and tell the story of how jazz in all its guises infiltrated and affected the formation of modern New Zealand culture," Dr Ward said.
"The composer Douglas Lilburn's manifestos on searching for tradition and language resonate not only in New Zealand art music history, but also in our jazz history. The arguments that Lilburn made for New Zealand artists to find our own traditions and musical languages that align with, but are separate from, the northern hemisphere have been explored by our jazz and dance musicians since the early 1920s."
Dr Ward holds a PhD in Music from the University of Auckland, an MA in Jazz History and Research from Rutgers University, New Jersey, and was the 2016/2017 Sir George Grey Researcher in Residence at Auckland Libraries. Dr Ward spent much of 2017 based at the National Library in Wellington, but also used the fellowship as an opportunity to examine archival holdings in other institutions in New Zealand and Australia.
"The Archive of New Zealand Music holds extensive collections relating to jazz in New Zealand including the Dennis Huggard Jazz Archive and the papers of New Zealand's foremost jazz broadcaster of the mid-twentieth century, Arthur Pearce," said Alexander Turnbull Library Curator Music Michael Brown. "These and other collections will provide rich resources for Dr Ward's project."
Photo credit: (supplied)
Chris Bourke (2015)
The Lilburn Research Fellowship for 2015 was awarded to Wellington writer and radio producer Chris Bourke.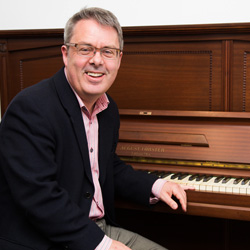 Chris Bourke's book Blue Smoke: the Lost Dawn of New Zealand Popular Music, 1918-1964, published in 2010 by Auckland University Press, won the 2011 New Zealand Post Book Awards for "book of the year", "general non-fiction" and "people's choice".
He was National Library Research Fellow in 2006 and University of Waikato Writer-in-residence in 2008. As well as writing for the New Zealand Listener, Pacific Wave, Rip It Up, Real Groove, North and South, and Music in New Zealand, Bourke has also produced Saturday Morning on National Radio with hosts John Campbell and Kim Hill.
Roger Smith of the Music Advisory Committee for the Lilburn Trust said, "Chris Bourke's application is very strong and highly topical. It is timely and will reach out to a lot of people." As the Lilburn Research Fellow Chris Bourke will work on an introductory companion book to Blue Smoke that will be about New Zealand music during the First World War. His research will be greatly assisted by the New Zealand WWI Sheet music that has recently been digitized by the Turnbull Library.
"It is a great honour to be selected as the 2015 Lilburn Research Fellow," said Bourke. "Lilburn's presence at Victoria University while I was there stimulated an interest in New Zealand's musical heritage, and his generosity creating the Archive of New Zealand Music at the Turnbull Library can now be seen as visionary as his compositions. He took an interest in all the arts, and all kinds of music. Next year is the centenary of Lilburn's birth and New Zealand's participation at Gallipoli, so this book will be a tribute to both."
Photo credit: Mark Beatty, National Library of New Zealand
Philip Norman (2013)
The inaugural Lilburn Research Fellowship for 2013 was awarded to Dr Philip Norman of Christchurch.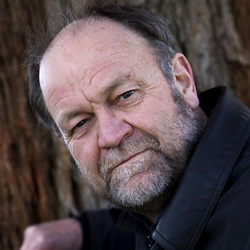 Philip Norman is well known as a composer, music publisher and writer, and he has been the recipient of many awards including a citation from the Composers Association of New Zealand, a New Zealand 1990 Commemoration Medal, and the Friends of the Turnbull Library inaugural Research Grant.
His biography, Douglas Lilburn: His Life and Music, published in 2006 by Canterbury University Press, won the biography category of the 2007 Montana Book Awards.
During his year as the Lilburn Research Fellow, Philip Norman worked towards completing a book that charts the course of New Zealand composition from the beginnings of European settlement through to the 21st century.
Photo credit: Gareth Watkins